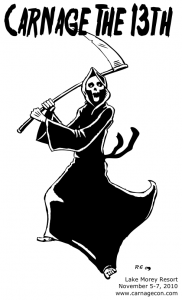 Note: this is the 2010 convention book! For the current year's convention book, which traditionally publishes in early fall, visit the news page.
Carnage the 13th's convention book, detailing the where, the when and the how of the games to be played at this year's convention, is now in the mail. Even as we type, this stapled, folded, laser printed missive of gaming-related delight makes its way through the byzantine layers of the United States Postal Service to all the current members of our mailing list.
In addition, for those of you who are staunch proponents of the electronic document, as well as those souls whose mailing information hasn't yet found its way into the Carnage database, there is a PDF download of the convention book, free for the taking. And if you can't wait for it to show up in your physical mailbox, feel free to pull down those electronic bytes.
You can also check out the handy schedule grid, linked below in three flavors, the better with which to plan your gaming weekend. The grid is based on Frank Perricone's work in creating a grid for last year's convention, so thanks to him for getting the ball rolling.
At the back of the convention book is your preregistration form, with which you can reserve a seat in those games you absolutely gotta play, as well as an official Carnage the 13th T-shirt, if your sartorial inclinations allow.
Finally, keep an eye on the Tournaments and Web Addendum pages. Details for the former are shaping up and the latter is where late arriving events that didn't make it into the convention book will appear.
Chilling Carnage the 13th Downloads: