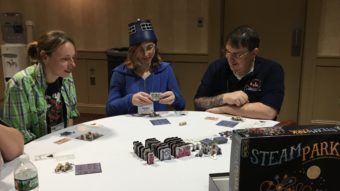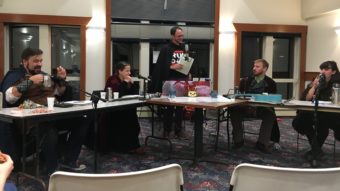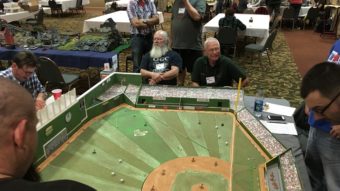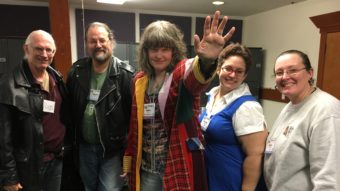 This year at Carnage XX, we:
raised over $2300 for Children's Miracle Network hospitals with Team NEG and Extra Life
raised over $1100 to find a cure for cancer with Gamers for a Cure
proposed — and accepted! — marriage during Cards Against Humanity
told ghost stories by the fireside with Oscar Rios and Golden Goblin Press
caught a ball game at Fenway Park with Green Monster Invades the Green Mountains
streamed Dungeons & Dragons games for laughs and good causes with Improvised Weapons, Gemhammer and Sons and Victory Condition Gaming
passed Sneaky Carnage cards around all weekend
played a ton more games
Thank you, everyone, who helped make Carnage possible this year, last year and every year prior since Carnage at the Crossroads kicked the whole thing off in 1998. A convention like Carnage exists entirely because of you, the gamer, the one who wants to spend a whole weekend meeting new friends, trying new games and enjoying the daylights out of the tabletop hobby.
From the very beginning, Carnage has been a labor of love. The committee members love playing games, learning new games, teaching the games they love to other people. But you can't make a whole convention out of that without so many more people also believing in that same vision of sharing their love for the hobby. Without GMs to teach the games and players to play them, there would be no Carnage.
Moreover, without the friendships that spring up among conventioneers — there's nothing quite like standing in line to pick up your badge and catching up with friends you haven't seen since last year, or the annual Saturday night dinner out before rushing back — there's no way Carnage could have lasted 20 years. Carnage is here because you are here. Carnage is fun because you make it fun. You make the friendships and the memories that keep you and all your friends coming back. Every year, we are humbled that you all choose Carnage to be the place to renew those friendships, make new ones and celebrate our hobby.
Thank you, each and every one of you, for helping make Carnage the best little game convention in New England for the last 20 years. We could not have done it without you.
Carnage 21 is November 2-4, 2018 in Killington, Vermont. We'll see you on the mountain!