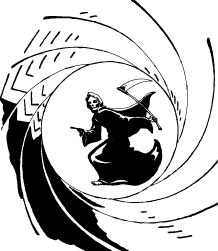 Care for a game, Secret Agent 802?
Carnage Royale is looking for people to volunteer to share and teach their favorite games at this year's convention, November 4th through 6th, 2016 in Killington, Vermont. A tabletop game convention like Carnage wouldn't exist without passionate people who step up to volunteer to run games for players, so we're putting the call out for game submissions. Whether you're an enthusiast looking for fellow players, a designer who wants to get their game some exposure or a publisher with a stable of titles to show off, we want to hear from you! Carnage game offerings span the spectrum from board and card games to miniatures battles of all genres to role-playing adventures.
When you're ready, fill out the GM submission form on our site with your game's details and send them to us. If you would like to submit more than one game, wait a moment after submitting and your web browser will be redirected to the submission page.
The deadline to have your submissions in to Carnage for inclusion in the convention book is July 31st. Submissions received after that date may still be considered, but Carnage cannot guarantee they will be included in the convention book on publication, which is the best way to get maximum exposure for your game.
Carnage Royale is a tabletop game convention that runs November 4th through 6th, 2016 at the Killington Grand Resort in Killington, Vermont. Lodging information at Killington is available. Once the convention book is compiled, registration will open to conventioneers in the fall. For further updates, you can check back at www.carnagecon.com, and follow Carnage on Facebook and Twitter.