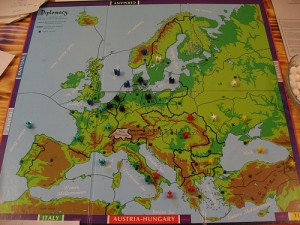 Join us at the Killington Grand Resort for the 18th Annual Carnage Accords Diplomacy Tournament, November 3rd-4th, 2017, as part of Carnage XX, Vermont's only tabletop game convention. Get your convention badge and sign up for the tournament with Carnage's online registration system. Preregistration is open until the end of October 24th.
This year, Carnage is pleased to host the North American Diplomacy Championships. David Maletsky  once again serves as the tournament director this year at Carnage. He has sent us the following tournament information:
There will be three rounds. Board seeding will be Friday evening at 6pm, Saturday morning at 9am, and Saturday evening at 7pm. It is advisable to arrive early for each round. Players will draft countries, and following which, board assignments will be randomized.
There is no central clock. Boards will set their own time structure by unanimous agreement. If agreement cannot be reached, the default is 15 minutes per season. All three rounds are time-unlimited, and all three rounds will count towards a player's tournament score. Carnage scoring will be used. It is a simple lead-based scoring system, with a center-based tiebreaker, and solo victories are worth a prohibitively large amount of points.
Any behavior the tournament director deems to be out of line will be cause for a warning, an ejection, or a ban, depending on the severity of the offense. Sample behaviors that will not be tolerated include, but are not limited to: physical violence or threats thereof, interpersonal vitriol, and substance abuse.
On all matters ranging from adjudication of orders to code of conduct, the tournament director's ruling is final. Concerns can be brought to the tournament director or Carnage staff.
If there are any questions, please feel free to contact Carnage staff at info@carnagecon.com and we will be glad to help you.