Note: This post links to the 2016 convention book and is made available for informational purposes only. If you're looking for the current year's convention book, check the sidebar, or the top of the News page, to see if it has been released yet.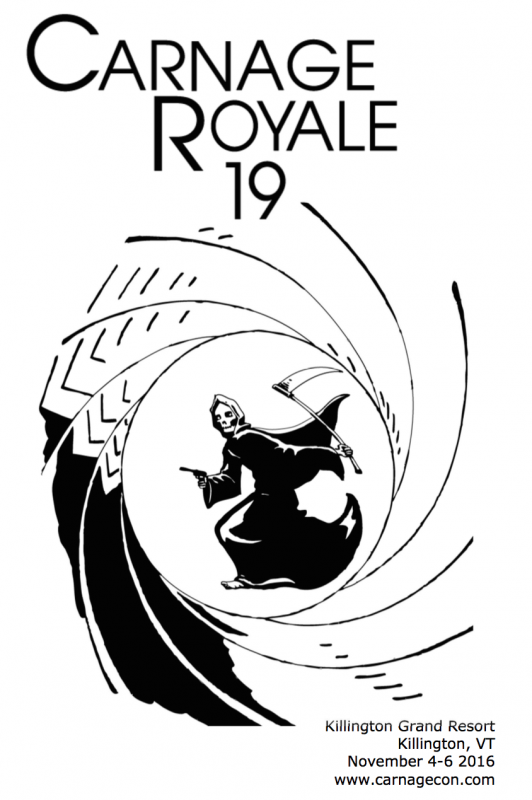 Carnage is very pleased to announce the opening of registration for Carnage Royale!
As in past years, you can download the convention book as a PDF — linked below, with the schedule grid — peruse the games listed and mail in the form on the last page to preregister for the convention. However, now you can also use our new online registration system to preregister for the convention paperlessly, and use Paypal for payment. Note that clicking the link above will redirect you to a second website, www.carnageconregistration.com, which is a Carnage-owned and operated web site, hosted separately for quality of service purposes. As with a paper registration form, online registration lets attendees indicate their first, second and third choices for games to play in a schedule slot. Those preferences are fulfilled on an as-available basis.
Carnage Royale, Vermont's own tabletop game convention, runs from November 4-6, 2016, at the Killington Grand Resort in Killington, Vermont. For more information about booking a room for the weekend, visit our Lodging page. Walk-in registrants are always welcome, but we encourage attendees to preregister for the weekend to reserve seats in scheduled games on a first-come, first-served basis. And do check the web addendum for late arriving games that didn't make it into the convention book.