Note: This post links to the 2014 Carnage convention book and is made available for informational purposes only. If you're looking for the current year's convention book, check the sidebar, or the top of the News page.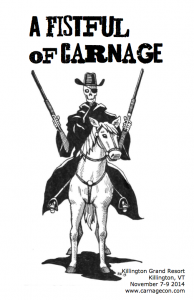 Saddle up, pardners! You're about to hit the mother lode of tabletop games at A Fistful of Carnage: board games, card games, miniatures, role-playing and more at the Killington Grand Resort on November 7-9 this year. To effectively work such a rich vein of tabletop action, you'll need to plan ahead. And so you can, with A Fistful of Carnage's official convention book, racing across the land in pony express saddlebags, as well as available through modern telegraphy!
Once you've figured out what you want to play, download and fill out the registration form. Note your desired games, include second choices just to be safe, check whether you're coming for the weekend or just a day or two and decide whether or not you want a T-shirt.
GMs, if you managed to find time in your Carnage weekend to play something and wish to register, be sure to check the box noting you're a GM. If you're registering as a group of five or more, all registration forms must be included in the same envelope.
Get your registration form in the mail and postmarked by October 31st! We do our best to accommodate last minute registrations, but your best shot of getting a seat at the games you most want to play is registering in advance.
A Fistful of Carnage Convention Book — 2014 [PDF, 1.1MB]
Carnage on the Mountain Pre-reg Form [PDF, 94kb]
Carnage on the Mountain Schedule Grid [PDF, 96kb]
Carnage on the Mountain Schedule Grid [XLS, 70kb]
Killington Grand Site Map [PDF, 62kb]
Addenda, Errata and Other Updates
The documents above reflect A Fistful of Carnage's schedule as of their publishing on October 6th, 2014. Further changes will be noted on the addendum page. This includes new games, corrections and cancellations.
As always, questions can be directed to info@carnagecon.com.
Get your registration forms in before the end of October. We'll see you on the mountain for A Fistful of Carnage!