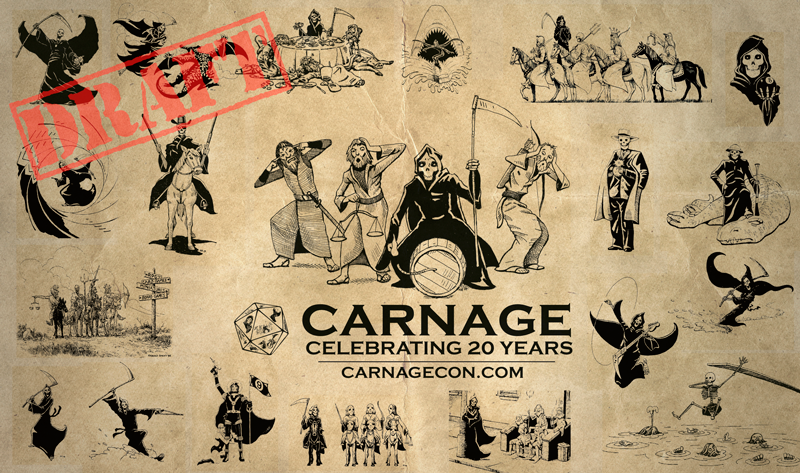 Carnage is pleased to announce that as part of the 20th anniversary celebration, a limited edition playmat is now available for preorder. Measuring 24″ x 14″, this mat features the many incarnations of the Grim Reaper and the horsemen of the apocalypse that have graced Carnage memorabilia over the years. Never before have all the faces of the Reaper been seen together in one place, and once this mat has sold out, you may never see them all together again! A playmat like this helps you flop cardboard with a speed and efficiency unlike anything seen on a regular hard table surface. (Note that the above image is a close-to-final draft, and the final version will likely vary slightly.)
This playmat is a limited edition item. Preorders will be accepted through Tabletop.Events' merch page until the end of October 24th, due to lead time for production and shipping. After that, your only hope to score one of these commemorative mats by placing first in one of the events below:
Six of these commemorative playmats will be won by players this year at Carnage XX. You can trust to your skills to see you through one of these tournaments, or you can ensure you'll own a piece of Carnage history by ordering one before the end of October 24th. Either way, after Carnage XX, this limited edition playmat will never be available again!
All Carnage art was created by Richard Emery. This playmat was designed by Hannah McMillen, and produced by Inked Gaming.