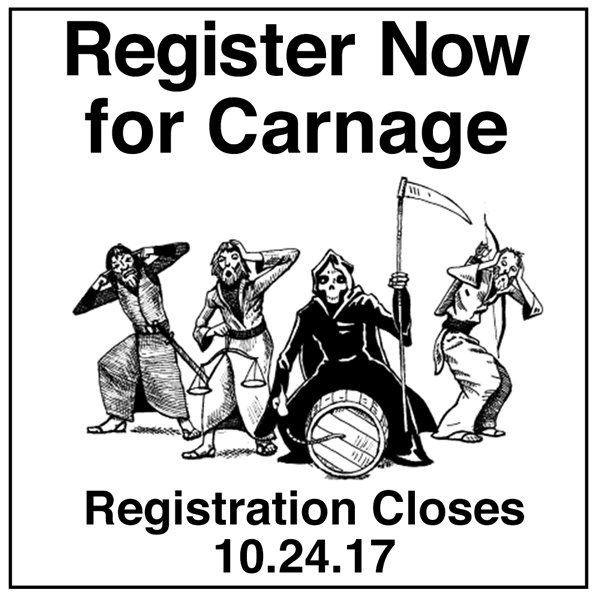 Registration for Carnage XX has officially opened! This year, we are using a third party website, Tabletop.Events, to facilitate attendee registration before and during the convention this year. Visit our site there, Carnage XX 2017, to browse the schedule of games for the weekend. This system has the ability to filter the schedule by game type, rules used, time of day and search for keywords, so you can find exactly what you're looking for fast.
How It Works
We have a short walkthrough written up if you'd like more detail about how to use the new online registration system.
Once you create an account with Tabletop.Events, you can purchase badges for yourself, friends and family members with a credit card and sign up for seats in games for all the badges you've purchased, plus preorder Carnage souvenir shirts. When you arrive at the convention, you can pick up your packet with your badge and tickets from the convention registration desk at noon on Friday and go enjoy the weekend!
This registration system works in real time, meaning the seats you see listed as open are available at that moment. If a game is full, you can get on the game's wait list, which means you will be notified when a seat becomes available. Carnage staff will be keeping an eye on which games fill up to see where we might be able to add games to the schedule, so don't be shy about using the wait list button.
After you've completed buying your badge, you can continue to manage your registration, adding and removing games from your schedule, until the end October 24th. At that point, registration will close until the convention begins so we can process badges and packets. After that, all financial transactions are final and game reservations can't be adjusted until the convention begins.
Important Dates to Remember
Registration reopens noon on Friday, November 3rd, at which point preregistered attendees can pick up their packets. The online registration system then reopen so people can purchase walk-up badges and make their ticket reservations on their personal devices. If you need help or don't have a web-ready device, the convention registration desk staff can give assistance.
If you're looking for the traditional convention book and paper registration form, we still have it for you in electronic format as soon as we are able. Below you can download the paper registration form, and will be able to download the convention book when we are able to post it. Please note that if you choose to register by mail, your game choices will be entered as and when able by convention staff, and seats may no longer be available in your chosen games.
Carnage XX Registration Book (this PDF is correct as of composition in September, the online listing is always current and accurate) [PDF, 1.6MB]
Carnage XX Registration Form [PDF, 102KB]