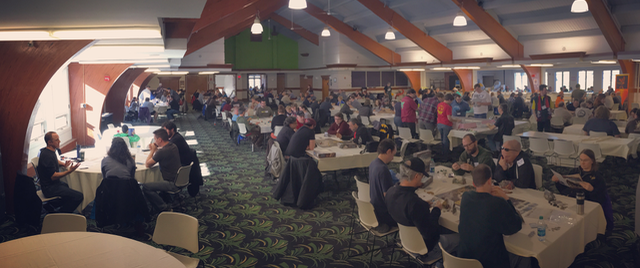 Thank you everyone who joined us last weekend for Carnage Royale, our nineteenth outing to play tabletop games all weekend long. By our count, there were at least 700 people playing games at the Killington Grand and Snowshed Base Lodge as part of Carnage Royale.
A convention like Carnage runs on its volunteers, those behind the scenes, and those who step up to teach their favorite games. Without games for people to play, Carnage would be no game convention at all. Thanks goes out to all the GMs who volunteered their time and energy to provide Carnage-goers with fun games to play all weekend long. We literally could not host a game convention without you all.
This year, we had some fun new groups and activities going on, in addition to the usual slew of board games, miniatures matches and role-playing scenarios.
Extra Life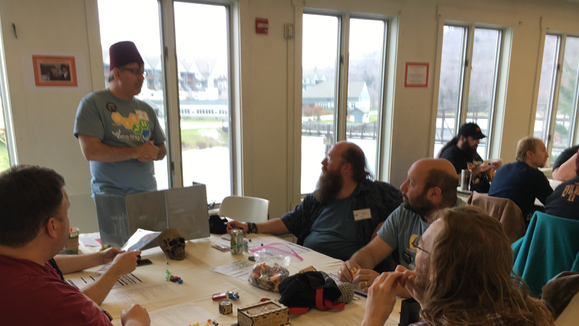 Carnage hosted games that raised money for Extra Life, a charity that supports Children's Miracle Network hospitals. In addition to players joining Team Extra Carnage and collecting donation pledges from friends and family, a core of GMs ran specially-themed games all weekend to raise additional funds, like Dr. Nik's Casino Royale LARP and David Clarkson's Carnival of the Damned, where players could make donations to influence the game, have the GM throw them a bone and more. All told, the Extra Life efforts at Carnage Royale raised over $3,000 for Children's Miracle Network hospitals. Thank you to everyone who contributed and organized, particularly the people who originally came to the Carnage board and said, "We've got this crazy idea . . . ": Sean Murphy and Edwin Nagy.
Cube of Death Pub Trivia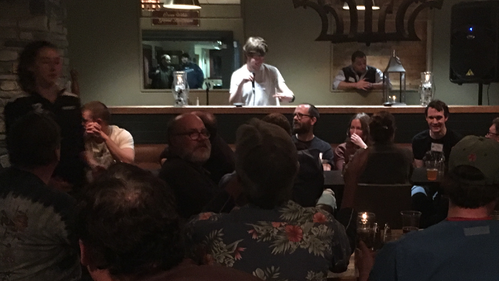 Cube of Death, pub trivia style, returned to Carnage for its fifth year, with a special guest emcee, Chris Griffin. Four teams converged on Preston's in the Grand Hotel to compete to be the last standing by virtue of their command of nerdly trivia. In the end, it was Chicken Pot Pie that emerged victorious. Thanks to TSR for sponsoring Cube of Death, as they have from the beginning.
Thank You!
And again, thank you to everyone who joined us on the mountain this year for Carnage Royale. We put this convention for tabletop game-players to have a place to make friends, rekindle old friendships and, of course, play a whole bunch of games. We hope you'll join us again, or for the first time, in November 2017, back at the Killington Grand. More news will be forthcoming in the new year, so keep an eye on our web site, like the Carnage Facebook page and follow @Carnagecon on Twitter.