Note: This post links to the 2013 Carnage convention book and is made available for informational purposes only. If you're looking for the current year's convention book, check the sidebar, or the top of the News page.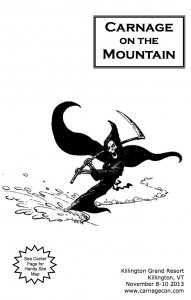 Carnage on the Mountain's official convention book is now available for download. Below, you will find links to the convention book, a preregistration form, a schedule grid and a map showing the layout of the Killington Grand and adjacent Snowshed Lodge. Note that the Snowshed Lodge is accessible through the door at the end of the hall by rooms K Roundabout and H-I Escapade I & II.
These documents reflect the schedule as it stood at the time of printing. For updates, alterations, amendments and new arrivals, check the Convention Book Addendum regularly.
Carnage on the Mountain Convention Book [PDF, 868kb] Updated 10/12/13!
Carnage on the Mountain Pre-reg Form [PDF, 64kb]
Carnage on the Mountain Schedule Grid [PDF, 96kb]
Carnage on the Mountain Schedule Grid [XLS, 63kb]
Killington Grand Site Map [PDF, 62kb]
Update October 12th, 2013
The convention book was updated October 12th with key miniatures corrections. The current version is named 2013_Carnage_Booklet_For_Web_10-08.pdf.
Additionally, the Convention Addendum is now live. This is a living document of updates, additions and cancellations. Watch it for the latest in gaming offerings at Carnage on the Mountain in 2013.