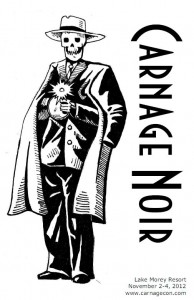 Note: this is the 2012 convention book! For the current year's convention book, which traditionally publishes in early fall, visit the news page.
All right, you mugs. The big score's less than two months away. It's a three day job and I don't want anything to go wrong. So we've got it all planned out, see? Right here in these pages is how the whole weekend goes down.
You can now download the Carnage Noir convention book, along with a preregistration form and a schedule grid in variety of formats to assist in planning out your greatest gaming weekend since Carnage in Wonderland.
These documents reflect the schedule as it stood at the time of printing. For updates, alterations, amendments and new arrivals, check the Convention Book Addendum regularly.