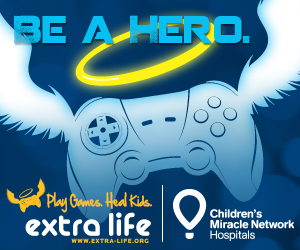 By playing games, Carnage-goers can help raise money for sick children by participating in Extra Life. Extra Life is the biggest gaming charity event of the year and this year, Carnage and Green Mountain Gamers encourage their fellow gamers to help.
To participate, sign up at Extra Life, join or create a team, choose a Children's Miracle Network hospital to support, ask friends and family for donations, and sit and play games, any kind of games, for a total of 24 hours.
Leading the way in supporting this excellent cause, Green Mountain Gamers is organizing a dedicated team of gamers to test their mettle in a 24 hour gaming marathon, Friday night to Saturday night of Carnage Noir. Visit www.greenmountaingamers.com/about/contact to ask for more information about this opportunity.
During the convention, Carnage will offer special Extra Life T-shirts, with all proceeds going to the Vermont Children's Hospital at Fletcher Allen Healthcare.