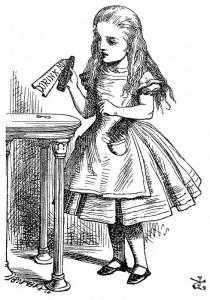 We could all use a potion to make ourselves smaller and fit more in the same amount of space. In the absence of that, there's sharing rooms. Lake Morey Resort's all booked up for Carnage and people are looking for alternatives to staying off-site.
In the name of helpfulness — and the absence of forum software — consider this your one stop shop for roomshares at Carnage in Wonderland. If you have a spare bed or a need for said bed, let other interested parties know about it here.
To keep things organized, if you have room to spare, start your comment with HAVE: and then describe the space you're offering. If you want a place to sleep, start your comment with WANT:, wrapping up with your needs. And be sure to include a way for others to contact you outside the comments section; the email address field in the comment form isn't visible to readers, so you should spell it out, as John McColley did just below. Don't rely on holding conversations here.