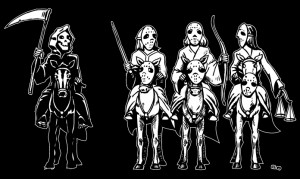 For its thirteenth year, Carnage invites gamers new and old to Lake Morey for a weekend of howling good gaming, November 5th to 7th. Your field marshals are hard at work pulling together a solid schedule of the latest and greatest in board games, card games, miniatures, war games and role-playing.
This Year's Theme: Razor Sharp Horror
The theme for Carnage the 13th is horror, with an emphasis on slasher horror a la Friday the 13th and A Nightmare on Elm Street. We encourage GMs to get creative incorporating the tropes of the genre in their games, but don't feel at all obligated to cram it in there. It's fun, but we want the traditional historical scenarios and dungeon crawls as much as anything horror-oriented.
Event Submissions
Event submissions will be accepted from now through July 26 at the GM Sign Up section of the site.
Accommodations
As of this writing, Lake Morey Resort is completely booked for Carnage weekend. It never hurts to get on the waiting list, but the successful conventioneer would do well to check the list of hotels and inns adjacent to Fairlee.
The Website
The Carnage website is back with a new design and some new features. You can follow the RSS feed and participate in the discussion forums.